Strength Training & Nutrition
Coaching for Christian Parents
I'm Coach J, and I'm a lot like you. 👋🏼
I love Jesus, my wife, our daughters, and helping other parents reach their fitness goals.
Blue Shoes Fitness is all about making fitness and nutrition simple and practical for parents like you.
❌ You won't have to be a slave to the gym
❌ You won't need to spend hours in the kitchen
❌ You won't waste time trying to write your own workouts
❌ You won't sacrifice time with your spouse and kiddos
(Your workouts and nutrition habits are tools meant to help you in your everyday life, not take away from it.)
I create custom fitness and nutrition programs based off of my clients' goals, preferences, and lifestyle. Your program (literally!) begins with a blank spreadsheet, and we'll work together to fill in the pieces to help you reach your goals. 
Here's what my clients are saying about their transformations with BSF: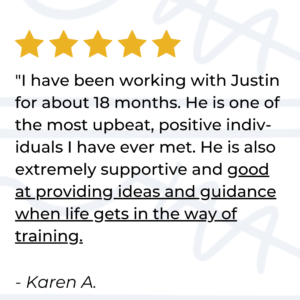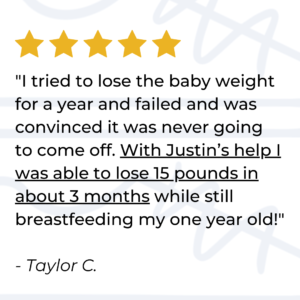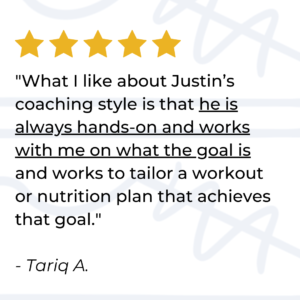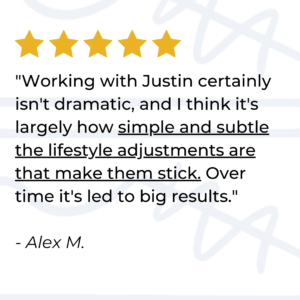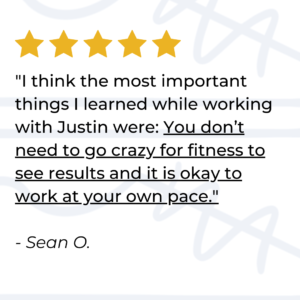 Each of my clients receives a completely custom program, but I've created a general progression to follow:
Rather than trying to force 29873501 changes all at once right from the beginning, we'll start tracking what your current habits while adding in a few basic workout assignments. We'll gather as much data as possible, including who you are outside of your fitness goals. 🙂
Once we've established your fitness, nutrition, and mindset baselines, we'll incorporate foundational principles in your eating and staple movements in your workouts. This block is all about getting plenty of practice reps in your new habits and systems.
Then, when your workouts and nutrition tracking feel more natural and mesh well with your lifestyle, we'll apply higher intensity. In your workouts, I'll challenge you to push closer to your maximal efforts; in your nutrition, I'll challenge you to greater accuracy and consistency.
After all this, we'll select key variables in your training and nutrition protocols to progress using various principles, tools, and techniques. By this point, you'll be plenty familiar with your program, yet you'll constantly be encouraged to grow, adapt, grow, and repeat.
Does this framework sound like it would help you to reach your top priority goals? If so, click the button below to learn more about how to get started!
I'm sure you still have questions before you get started with your coaching program. 
Here are some FAQs that your fellow parents often ask about training online with BSF:
Ready to get started right away? Or maybe you still have a few questions for me? Go ahead and apply below, and we'll chat more before you officially sign up!
(One final thought for you: I make sure every single person who applies for coaching finds their best next step toward their goals, even if that means referring them to another program or resource. Applying is truly risk-free!)